Veilings ~ Auctions
MERINO LANDSHEEP NATIONAL AUCTION 2020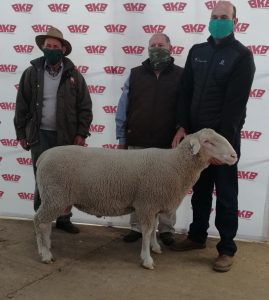 The National Auction was held on Wednesday, 19 August at the small stock complex of the Bloem Show.  33 Rams were sold on the day by 7 top breeders.  The highest price of R37 500 was paid for a ram from Ben du Plessis from Koppies, bought by Vaalbos Merino Landskaap Stud from Pieter en Dalena Niemann.  The 21 stud rams were sold for an average of R18 690 and 12 Herd rams for an average of R10 875.  Both the average prices are about R5 000 more than last year.  We would like to thank all our sellers and buyers for your continued support.
On the picture included appears Ben du Plessis, Koppies (Seller), Jan Mostert (auctioneer, BKB Louwid) and Pieter Niemann from Vaalbos Merino Landskaap Stud, Ulco (buyers)
Maksi Merino Landsheep 11th Production Auction
The eleventh Maksi Merino Landsheep Production Auction was presented on a wet day on February 8 on the farm Verdeeld in the Koppies area.
21 Stud ewes was sold for an average of R4 464 with the highest R6 000 for an ewe bought by Naas Rautenbach from Standerton.  13 Stud rams have been sold for an average of R13 735 with the highest amount of R21 000 bought by Wim Barendrecht from Secunda.  Herd rams was sold for average R6 071 and commercial ewes for average R2 383
The Maksi Production group (Ben du Plessis, Dirk du Plessis, Abrie en Pieter Small, Jaap Erasmus, Hardus Vermaak, Hentie Boardman and Willie van Niekerk) thank everyone who attended the auction and contributed to the success of the day.  A special word of thanks to BKB's Karel du Plessis and Theuns Barnard who conducted the pre-selection and also offered their assistance during the auction.  Thanks also to Schalk Jonker (BKB) and Jan Mostert (Auctioneer BKB Louwid, Kroonstad) and all the ladies who were involved with the refreshments on the day.